COVID-19 RDT Data Capture: A MEDplat extension for FIND

by Subhabrata Dasgupta on January 19, 2022

296 views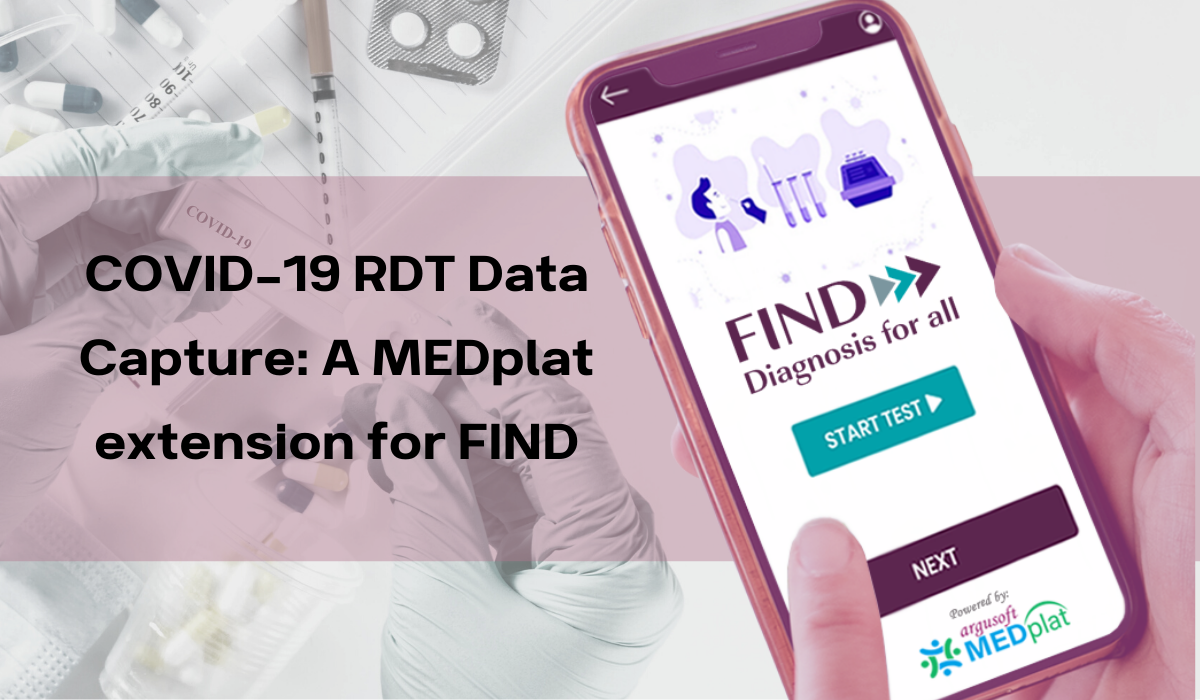 As more transmissible COVID-19 variants continue to cause a surge in the number of cases worldwide, countries' need to accelerate rapid testing, and the need to analyze the positivity rate more effectively is further pronounced. The need of the hour is to respond quickly, improve surveillance to contain outbreaks locally and curtail the spread of the virus at the community level. COVID-19 Antigen RDTs have a big role to play in increasing access to testing. Results can be delivered in minutes, saving time and bringing efficiency. In addition, COVID antigen Rapid Diagnostic Tests (RDTs) provide an opportunity for decentralized data collection. This data can optimize effective pandemic response in the form of diseases surveillance, patient care and supply chain management—thereby empowering communities to reduce the toll of the fast-spreading virus. 
Ensuring that health workers and health systems have access to appropriate resources is essential to combat the COVID-19 pandemic. The ACT-Accelerator (ACT-A), announced by the WHO Director-General and world leaders, is a global collaboration with the aim to accelerate development, production, and equitable access to COVID-19 tests and treatments and vaccines. The Diagnostics Pillar of ACT-A is jointly co-convened by FIND and the Global Fund to Fight AIDS, Tuberculosis and Malaria.
As part of the ACT Accelerator, Argusoft added a novel digital health solution within the MEDplat Application to enable COVID RDT capture with FIND.
Argusoft's MEDplat is a comprehensive, standards-based, low-code platform with a high degree of configurability and support for multiple health verticals with longitudinal tracking.
The COVID RDT App can work either independently or with MEDplat implementations or other third-party applications to digitize COVID 19 RDT test data. The application comes with ready-to-use COVID-19 RDT workflows. It allows for customizations to fulfill future needs in deployed communities. Forms can be easily configured to capture key patient information, symptoms, test details, specimen details, and RDT results.

We believe that understanding how the COVID-19 virus spreads in communities is crucial to crafting effective preventive measures and response strategies. In this context, collaborations between like-minded organizations are also essential for innovative solutions. In addition, these solutions will improve access for communities to healthcare. This will be another step towards improving healthcare coverage, irrespective of location or the socioeconomic strata of the community.
Argusoft believes that the purpose of technology is for human convenience and upliftment. We would be happy for countries and States, and Large NGOs to use this COVID RDT Tool. For more information, please get in touch with info@argusoft.com