Five Tech Trends That Will Shape Business In 2022

by Subhabrata Dasgupta on February 4, 2022

338 views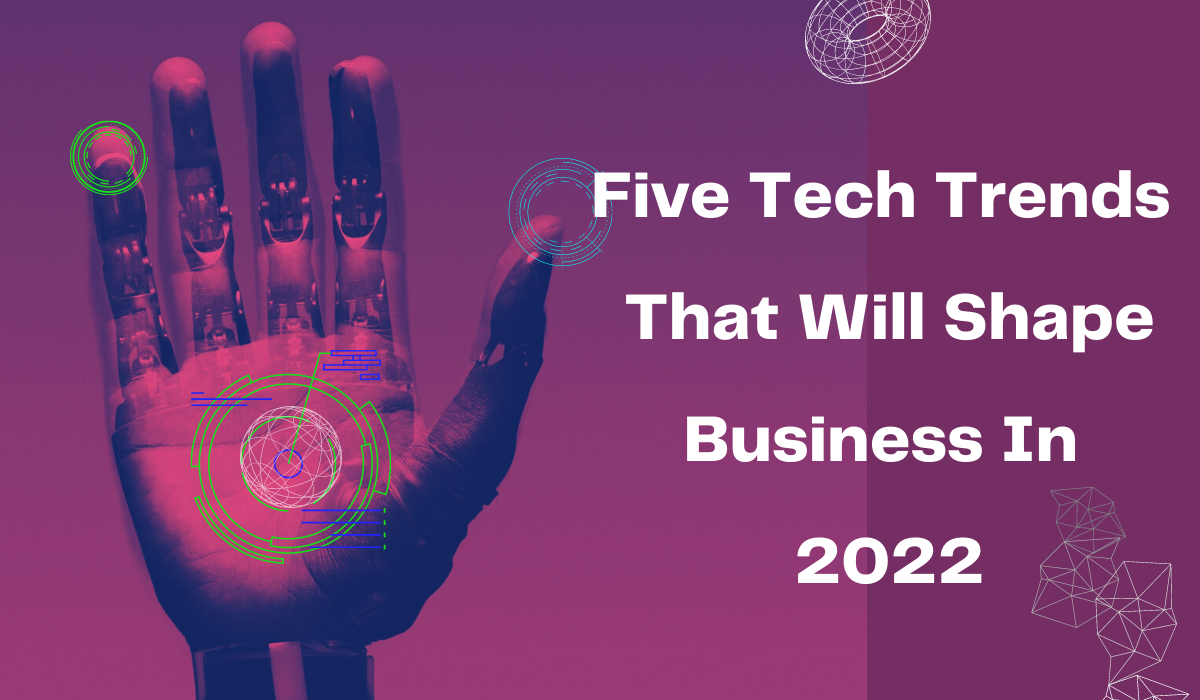 2022 is upon us. Will it be a year that shall see the world collectively come out of the shadow of the pandemic? And step into a post-pandemic future that looks distinctly different? Or, will 2022 also witness the same old confusing dance between attempts to unlock the economy and humble retreats forced by ever-evolving virus variants? A repeat of the last two years, to be brief? In these unprecedented times, the answers rarely come easy.
At Argusoft, we work as solution designers, helping our clients brace for the future–regardless of its exact contours. Our unique vantage point of leveraging in-house, low code frameworks, in digital process automation and public health, to design solutions for the last decade provides us with novel insight into how technologies will continue to revolutionize and reinvent businesses.
Based on these industry insights and stimulating conversations with colleagues and clients, here are five tech trends that have the potential to shape the year ahead:
1. Low-Code/No-Code Will Cause Cultural Shift In Organizations
The case for low-code/no-code has already been made. Low-code/no-code platforms are now widely available. And their benefits have been established. These platforms have helped quicken the pace of digital adoption at a fraction of the cost.
Low-code/no-code is no longer a question of "if" but that of "how."
In 2022 and beyond, organizations will have to enable a cultural shift to make the adoption of such platforms smooth, seamless and outcome-oriented. Technology leaders will need to demonstrate how digital adoption and transformation align with consumer expectations in the current environment. Tech leaders must tie their plans with solid business outcomes and ROI positivity to get executive buy-in on the digital agenda.
Further, executives will have to adopt a more engaged and proactive approach to technology. No longer is relying on a technology team for tribal knowledge an appropriate approach. Wherever possible, executives will have to champion the use of low-code/no-code to build efficiencies, continuity, single point of failures, automate processes, make it easy for users, and stay in tune with the evolving trends.
The balance has shifted towards greater agility and cross-departmental collaborations.
Therefore, firms with 'executive championing' will win over others that are still trying to achieve 'executive buy-in.'
2. Actionable, Integrated Data Will Break Down Silos
Data that lives in silos are fast becoming an Achilles heel for large firms. Silos slow down business, hinder communication and collaboration and impede productivity.
A recent study by Gartner reflected that 87% of businesses suffer from low Business Intelligence (BI) and Analytics maturity1.
With both data volumes, and sources burgeoning, the problem becomes more complicated. In 2022, seamless integration of data and harnessing actionable insights will be a priority for businesses. Therefore, Modern BI and Data Analytics platforms that can enable this will find themselves in demand. Argusoft has pioneered customizable dashboard solutions for analytics of domain-specific data for a number of its clients.
3. Health Tech To Develop Further
The pandemic accelerated the ongoing digitization of the healthcare industry, especially when it came to public health in developing country environments where access to care delivery and management was limited. Buoyed with a grant from the Bill & Melinda Gates Foundation, Argusoft has pioneered remote care delivery and management in the public health arena with its MedPlat framework, which completely digitizes the care delivery and management across all stakeholders.
The acceleration of digitization of the urban healthcare environments was a direct impact of the pandemic, catalyzed by encouraging adoption, favorable regulatory changes, sizeable investment, and positive reception. And, there are clear signs that the move towards digitization is not a fad.
As per the HIMSS Future of Healthcare Report2, 80% of health systems will increase their digital health investment levels in the next five years.
The same report suggests that growth will continue in different areas of the healthcare industry, such as telemedicine, genomics, personalized medicine. Organizers will continue to leverage Artificial Intelligence (AI), Extended Reality (XR), cloud computing and the internet of things (IoT). Tech will continue to hasten the development of new treatments and services and the improvement of existing ones. This is a clear trend emerging from the health industry in 2022 and beyond.
4. Increased Automation At The Workplace
The pandemic-induced economic uncertainty has caused organizations to reduce spending and achieve operational efficiency. However, notwithstanding the overall slashing of spending, firms are not opposed to loosening their purse strings for digital transformation, as they rapidly automate workflows, processes, services and business models.
Automation is also helping businesses fill labor shortage gaps. For example, self-serve kiosks, autonomous order fulfillment, and AI-enabled drive-throughs have begun to free up resources for roles requiring higher skill levels in the retail and hospitality industries. This adoption is expected to accelerate further in the years ahead. Leveraging AI and machine learning, organizations are automating as much as can be feasibly achieved. As a result, human error is reduced, delays are removed, and overall, faster services are being envisioned. This trend is expected to deepen further in most industries, wherever there is scope for greater efficiency and lower operating costs, especially for mundane, repetitive tasks.
Gartner Inc. predicts that by 2025, one-fifth3 of all products can be sent from factory to customer without a human touch.
The customer will be the first person to touch the product physically. The whole value chain will be automated – manufacturing, packaging, shipping and delivery.
Automation will also transform processes within the workplace. By 2023, Gartner Inc. expects organizations to run a full 25% more3 of their tasks autonomously. This will be achieved using robotic process automation (RPA), automated tools that provide programmatic integrations and deeper functionality.
5. Consumer-Focused Experience-Based Technologies Will Transform CX
Companies will leverage advancements in technology to explore novel ways to connect with customers and enhance the user experience with experience-based technologies such as Virtual Reality and Augmented Reality. As a result, Customer Experience (CX) will veer towards a more digital and immersive future, and firms will continue to invest in creating more positive experiences for their customers.
Your Digital Transformation enabler
At Argusoft, we follow developments in the technology and solution design sphere with keen interest. We have built and continue to build frameworks that accelerate this transformation for our clients and help maintain their solutions with minimal effort.
We work with global companies, governments in developing countries and organizations like WHO, UN and related agencies to embrace the future. Our forte lies in building resilient, flexible and smart solutions to solve our clients' hard problems, leveraging technology. We help businesses build for the future and prepare for different eventualities and uncertainties.
Come accelerate your digital transformation with Argusoft!
References:
1 https://www.gartner.com/en/newsroom/press-releases/2018-12-06-gartner-data-shows-87-percent-of-organizations-have-low-bi-and-analytics-maturity
2 https://www.himss.org/resources/future-healthcare-report-exploring-healthcare-stakeholders-expectations-next-chapter
3 https://www.gartner.com/smarterwithgartner/gartner-top-10-strategic-predictions-for-2021-and-beyond